Walter Reed FReep #95 - The Bus Stops Here
Instead of "The Bus Stops here" I could well have titled this AAR "Freeping on a Glacier". Last week we had a typical Washington DC area winter storm; sleet and snow. During the day it partially melts, and at night freezes rock-hard. This time, after only about one day of partial melting, the temperature stayed below freezing even during the day, unusual for around here. The result was that any driveway or parking lot that didn't get plowed on Wednesday had turned into a glacier by the weekend. Cars that didn't get cleaned off were encased in ice.
The parking lot were we set up our base of operations was like a skating rink.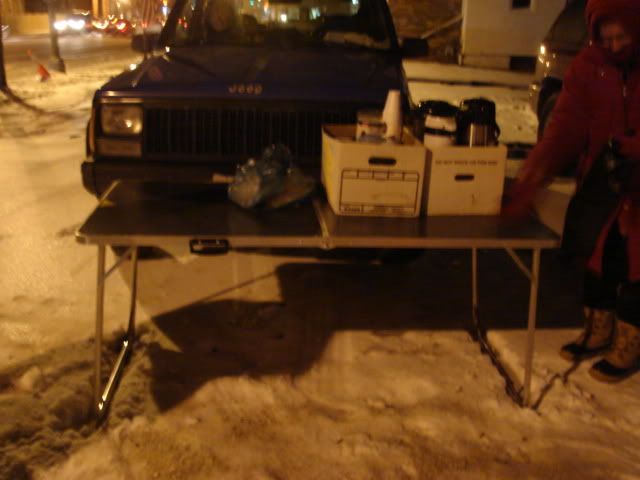 Honor role of attendees for this week's FReep:
tgslTakoma, Tom the Redhunter; VAFlagWaver; Kristinn, Albion Wilde, Mr & Mrs Trooprally, Lurker Bill, Cindy-true-supporter, Just A Nobody, TFroatz, , Fraxinus, Nina0113, Lurker Adam, Olney-Keith,
and about
10 students from the George Washington University College Republicans! Mr Trooprally
took shovel and pickaxe in hand to work at clearing the area on the sidewalk where we stand to greet the cars coming out of the base entrance. He's looking a bit tired just thinking about it!
Mr Trooprally
provides a narrative
"[Mrs] T and I arrived at 6PM and pulled into an icy parking lot, wondering who was standing next to the entrance. Upon getting out into the low 20 degree air, we met a cold Lurker Adam. He hasn't been at WR for a while, but he was dressed warmer than in the past. Some greetings and he got into the jeep to warm up while I unloaded the shovel and salt. The driveway up to the parking lot was salted down. Before we could start clearing the corners of ice pack, a call came in from Nina0113 . She was at the Metro station, cold and needing a ride. Leaving [Mrs] T and Adam there in the cold (they didn't know how to get to Metro station), I left to get Nina . ...

Returning with Nina, I saw [Mrs] T and Adam had a good start on the NE corner. [Mrs] T got into the jeep with Nina while Adam and I proceeded to clear and salt the other four corners. As other FReepers arrived, they helped in enlarging the cleared areas."
TFroatz
and
Fraxinus
also put in a lot of effort at pickaxing the sidewalks. Thank you guys!
Here are
Lurker Adam
and
Mr Trooprally
cleaning the NE corner, the one directly across from the main entrance:
We quickly put up the flags and got our our signs. It was far too windy for the MOAB, but the flip side of that was that the flags look great flying in all that breeze.
Here are
tgslTakoma, Kristinn & TFroatz
standing on frozen snow while setting out flags
Cindy_True_Supporter
and
Nina0113
are all bundled up on the NE corner. The first thing you learn about FReeping in cold weather is that you don't dress for the first hour, but for the last! Chemical pack hand warmers are a must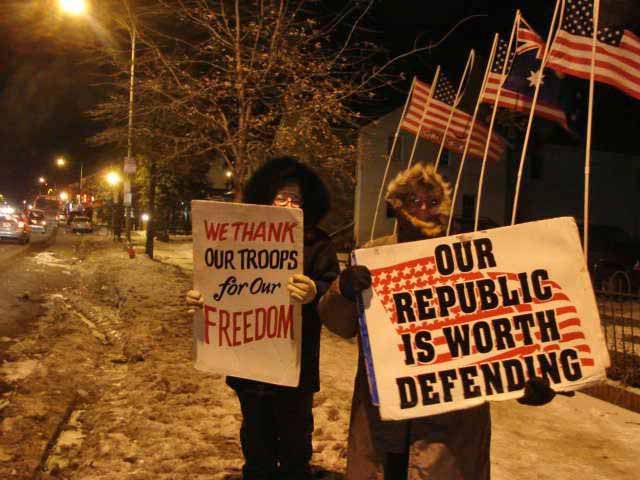 I took up a station by
Lurker Bill
on the SE corner and we soon started receiving our usual high quota of friendly waves and honks from passing cars. Many are police cars, and one lady officer used the car's loudspeaker to say "Thank you for coming out to support the troops!"
Sometimes cars will stop and speak with us briefly. On this evening one of the cars coming out of the hospital stopped by the NE and spoke with (I believe)
Olney-Keith
and
Albion Wilde
, and say "thank you" for being outside in the cold to lift the spirits of those inside. He said he was a Vietnam vet who worked with new troopers who had just arrived from the war zone (which could be Iraq or Afghanistan). He helped them through their issues.
Later that evening, while standing at the NW corner,
VAFlagWaver
,
Mr Trooprally
and I met a young soldier who was coming back to the hospital. He said that he appreciated what we were doing, we told him that we appreciated his service, and we shook our hands. He said that he had lost an eye but was still going back to Iraq in a non-combat role. Far from feeling depressed over his redeployment, he seemed proud of his service and that he was going back. What an amazing bunch they are, and how fortunate as a nation we are to have them protecting us.
Here are
Lurker Bill
(foreground) and I greeting the cars on the SE corner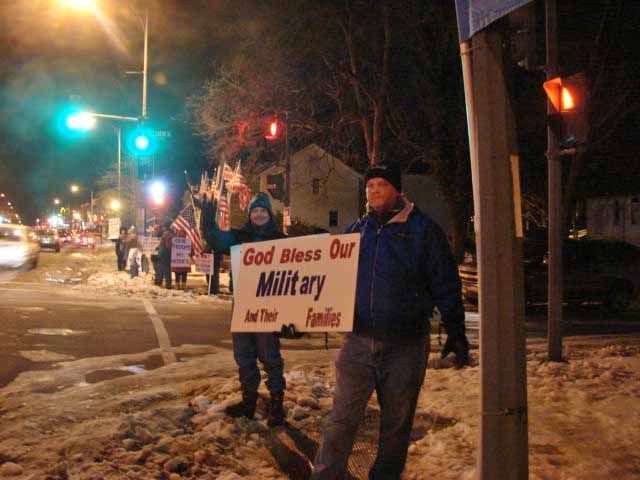 And here's
Olney-Keith
holding down the NE corner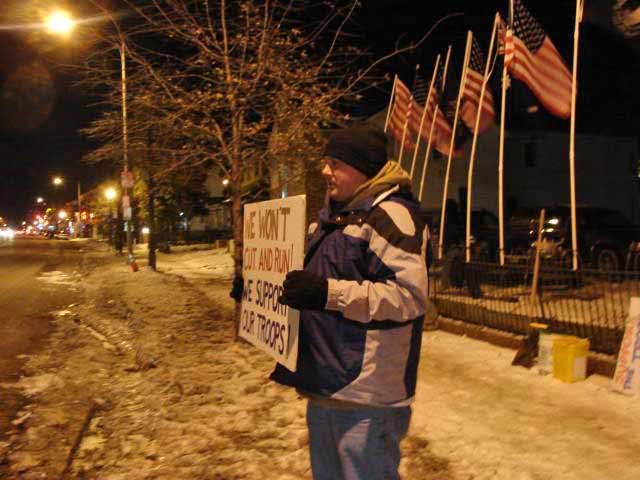 Meantime, here are
VAFlagWaver
(foreground) and I on the opposite corner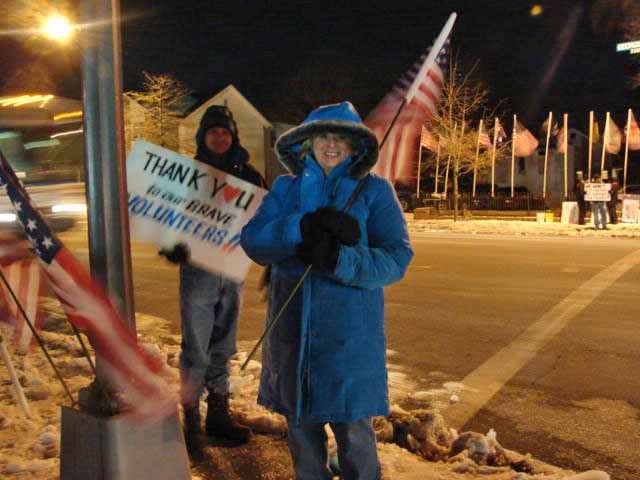 The "Young Pubs" Arrive!
At around 9:15 about 10 members of the
GW College Republicans
arrived to take up stations around the four corners. No matter the cold, they add a burst of energy to the FReep!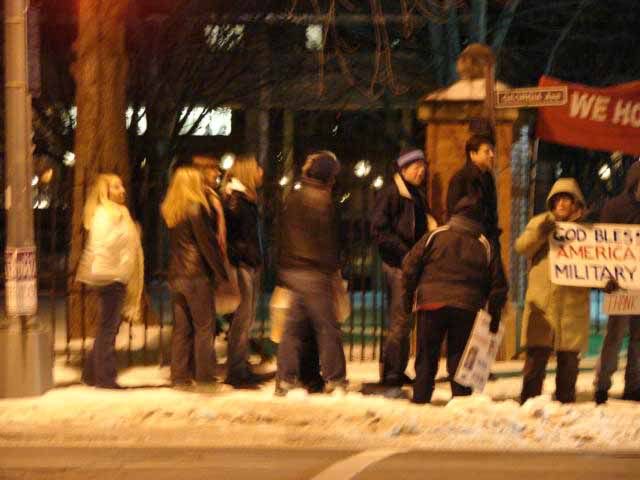 And Here is the Obligatory Picture...
...of the sad bunch of Pinkos down the street. They don't fool anyone with their "vigil" sign. It's an anti-war, anti-troops protest plain and simple.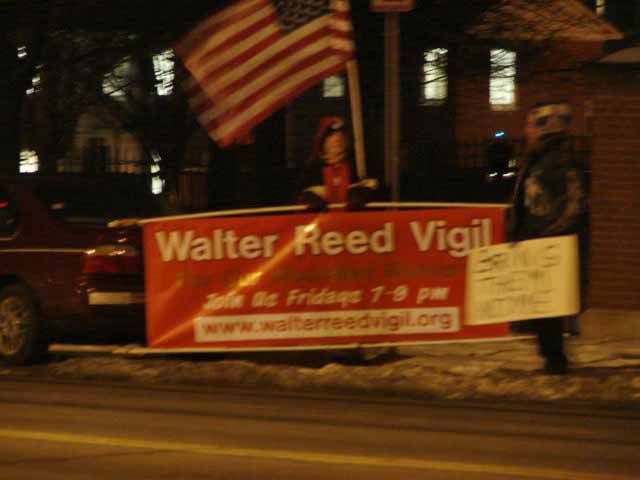 The Buses Arrive - and Stop!
As the buses came up Georgia Avenue this time I noticed something unusual; they were in the right lane. In order to turn into the hospital they should be in the left lane, I thought. Surely they'll move over to the center.
But they didn't. Rather than put on their turning signals they turned on their flashers and stopped right in front of
Lurker Bill's
corner. At the time I was on the opposite corner with
VAFlagWaver
"Well isn't this interesting", I thought. Something's up.
After stopping I noticed someone getting out of each bus and walk up to the FReepers on the corner. Then I saw
Mrs Trooprally
and
tgslTakoma
get onto the big bus.
The troops and their familes just wanted to say "Thank You" to us for greeting them every Friday. The feeling was quite mutual!
Here is the gathering outside the big bus: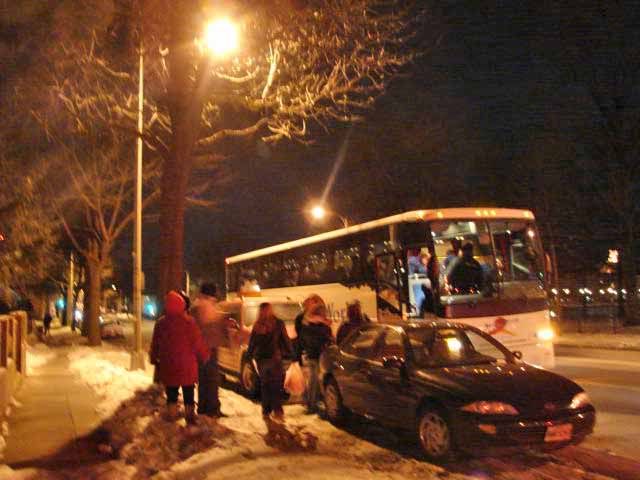 And here is
Mr Trooprally
getting onto the small bus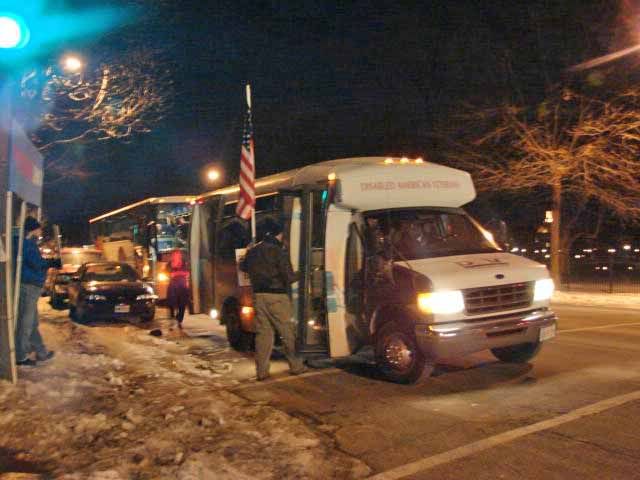 This is hardly the first time we've heard these sentiments from the troops and their families. We're heard it hundreds of times over the past 18 months. Anyone reading this who thinks that our standing outside doesn't mean anything and that it's all for show doesn't know what they're talking about. Word has spread far and wide about our rallies inside the hospital, and indeed in Iraq as well.
Here's the view from inside the bus as
tgslTakoma
and
Mrs Trooprally
speak with the troops and their families: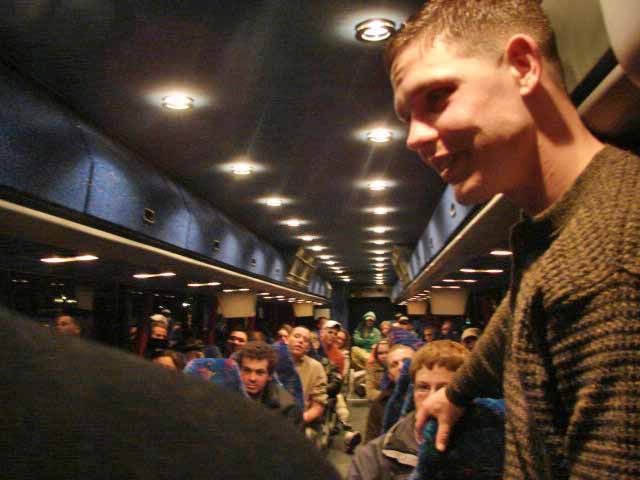 Cindy-True-Supporter
sends this account:
"I had the great opportunity to get on the small bus along with tgsTakoma. It was a trill to be able to express our appreciation of their sacrifice and service. The addition I made to Takoma's very heartfelt expression of love and thanks, was that we reprecent a strong support group across the nation. I wanted them to know that there are tens of thousands of very supportive, true Americans that respect, value and realize the job they've done.

They are increditably, amazing, selfless individuals.
Words just can't express what I feel about them."
One more of the scene at the corner.
Mr Trooprally
is getting on the small bus.
Lurker Bill
is at left beside his sign.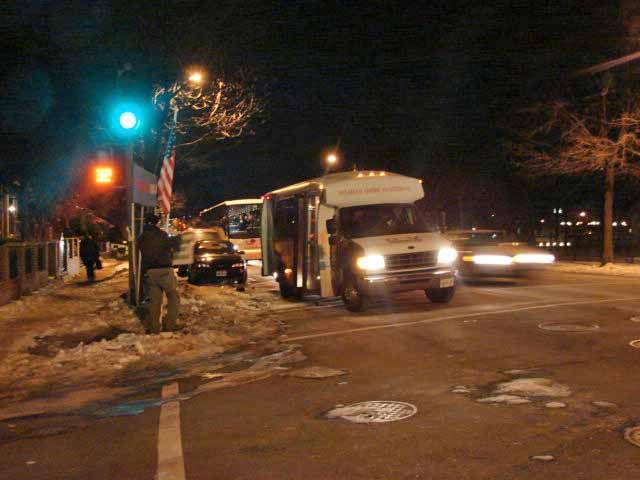 During all this
VAFlagwaver
and I decided to stay where we were because sooner or later the buses would pull into the entrance and it would be good if they could see people on all four corners.
In the face of all that our troops do for us in Iraq, Afghanistan, and all around the world, if we can lift their spirits a little by doing what we do ourside Walter Reed it's worth it times a hundred to stand outside for a few hours.
Acknowledgements and More
Don't be shy! We'd love to have you with us one evening! If you'd like more details please send FReepmail to me or any of the other participants.
* A special Thank You to
Mrs Trooprally
for taking the photos for this AAR. All of her photos for this FReep can be viewed
here
.
* Thank you also to
BufordP
for maintaining the
BIG LIST of all Walter Reed FReeps
*
Tom the Redhunter
blogs at
The Redhunter
This post can also be viewed on FreeRepublic.